Pitmaster's Choice Foil




Pitmaster's Choice Foil
Reynolds Wrap® Pitmaster's Choice super strength foil is made for legendary BBQ. Find the 3-2-1 method for competition quality ribs below.
Extra Thick Foil
18" Width for Large Cuts of Meat
Easy Open and Stay Closed Box
Where to Buy
Pitmaster's Choice Foil

Features…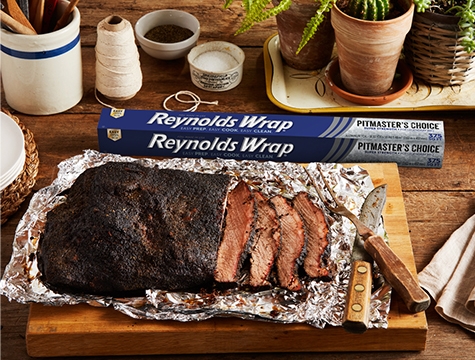 Extra Thick for Legendary BBQ
Super strength, thick gauge foil to withstand heavy duty barbecuing.
18" Width for Large Cuts of Meat
Larger cuts of meat need serious foil with extra width.
Easy Clean-up
BBQ is messy, but clean-up doesn't have to be with Pitmaster's Choice foil. Simply toss when done.
3-2-1 Method for Competition Quality Ribs
Looking for tender, fall-off-the-bone ribs without a lot of extra effort? The 3-2-1 method results in competition quality ribs in three easy steps.