Reynolds Kitchens® is looking for a Cookie Connoisseur!
Calling all baking fanatics and cookie enthusiasts! Reynolds Kitchens® is recruiting for a Cookie Connoisseur this holiday season.
COOKIE CONNOISSEUR JOB DESCRIPTION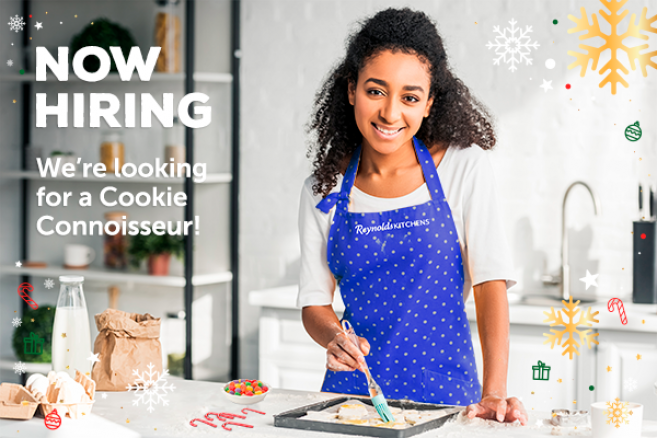 Qualifications
Reynolds Kitchens® Parchment Paper SmartGrid®, known for its natural paper with easy to use SmartGrid® lines for smarter baking is looking for a proven multitasker in the kitchen… someone comfortable with baking and eating cookies at the same time. Additionally, we're looking for someone who is:
Comfortable trying wacky or unexpected ingredients to elevate your holiday cookie recipes
Known as the go-to cookie maker among your family and friends
Ready to take a stand on baking ingredients, like using salted vs unsalted butter
Willing to share your best and most unique recipes with us
Cookie Connoisseur Responsibilities
Demonstrate your favorite way to bake cookies during the holiday season
Share your favorite cookie recipe, secret ingredient, or crazy cookie ingredient that will blow our taste buds away
Allow Reynolds Kitchens to share your recipe on Reynolds Kitchens and be featured on our Cookie Countdown to 2021 on Facebook and on our website, so all baking enthusiasts at home can make your mouth-watering cookies at home
Create four additional recipes that will be added to ReynoldsBrands.com and social channels
Additional Benefits
A $5,000 baking stipend (Yes, you read that right. You're getting paid to bake cookies)
Plenty of Parchment Paper to bake your way into 2021
How to Apply
Age and city, state, and zip code (Must be 18+ and live in the United States)
Photo of their cookie recipe
Include their cookie recipe with bulleted list of ingredients
Explanation of why applicant deserves the job in 250 words or less
Click here for the official rules and regulations
Submit materials at: careers@ReynoldsSweetGig.com
Applications Open: December 1, 2020
Applications Close: December 8, 2020
If you're not chosen for our Cookie Connoisseur, we'll be sure you're covered during baking season. We'll be randomly selecting applicants who applied to receive one of our complimentary cookie kits so you can bake along with us!