Grill Bags




Grill Bags
Reynolds Wrap® Heavy Duty Grill Bags let you make practically anything on the grill! These unique foil bags make it easy to quickly grill up dishes that aren't normally made on the grill, like pasta, fajitas, and more.
Extra Tough & Grill or Oven Ready
Pre-Cut Vent for Perfect Steam Control
Holds Up to 4 Servings Per Bag
Where to Buy
Extra Tough & Grill or Oven Ready
These grill bags deliver heavy duty reliability, making preparing foods on the grill or oven even easier to enjoy without messy cleanup
Pre-Cut Vent for Perfect Steam Control
Perfect steam control from the pre-cut vent helps infuse flavors and create tender meat and veggies, and al-dente pasta
Holds Up to 4 Servings Per Bag
Make quick meals on the grill to feed family and friends and save time on cleanup afterward
Only Grill Bag that Opens on the Long Side For:
Easy Food Preparation
Convenient Access to Mixing During the Grilling Process
Quick & Easy Food Removal for Serving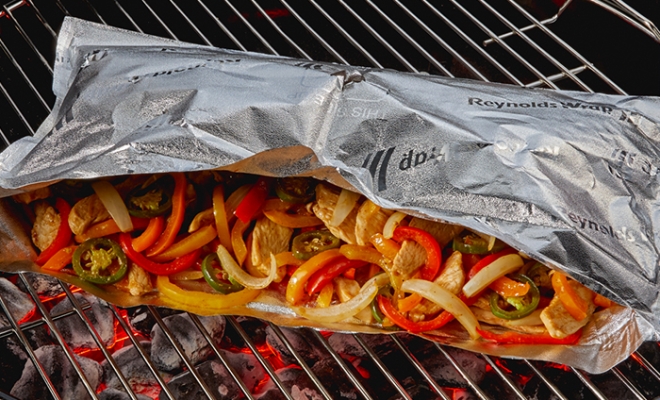 PREHEAT Grill
High (450-500°F) for Meats
Med-High (400°F) for Vegetables
PLACE food in bag in even layer with steam vent and "THIS SIDE UP" on top. Always sprinkle 1 tablespoon seasoning or flour on food to protect against bursting.
FOLD twice to close bag. Carefully place on grill and close lid to cook.
OPEN bag halfway through cook time to enhance flavor and browning. Unfold bag with grill mitts/tongs. Leave bag open, close lid and continue grilling until done.
SCRUNCH bag to close. Remove hot bag from grill carefully and place on a tray to transport. Serve and enjoy!
Make Practically Anything on the Grill!
Grill up more of your favorite foods and easily add sauces and seasonings to infuse delicious grill-fired flavor into pasta, fajitas, seafood and more. Explore Reynolds Wrap curated recipes for quick meals with less mess and easier cleanup.
Grill Bag Recipes