Best Parchment Paper Uses
You may have heard that parchment paper is a handy tool to have in your kitchen, but you might not be aware of all the ways you can use it.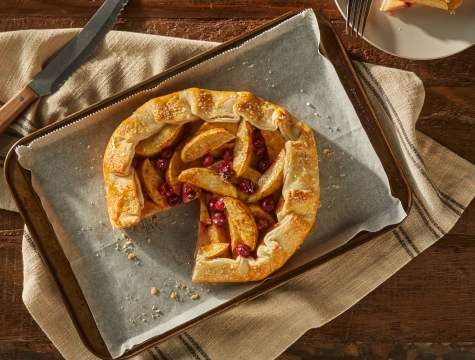 Essential Parchment Paper Uses for Every Home
From preventing your cookies from sticking to your pan to keeping a tidy workspace for decorating cakes, cookies, and bars, parchment paper works wonders with its versatility. It's the ultimate sidekick for baking, cooking, food prep, storing, tidying up, and indulging your creativity. Check out some of our parchment paper tricks that help make everyday tasks a little easier.
Discover the Magic of Baking with Parchment Paper
If you enjoy baking, then you're likely already familiar with parchment paper. This oven-friendly material can withstand temperatures up to 425°F, but is not intended to be used for broiling or exposed to high temperatures. While it's perfect for lining your baking sheets and preventing your cookies from sticking, be sure to take note of its temperature limit before popping your goodies in the oven. Explore our best tips for baking with parchment paper.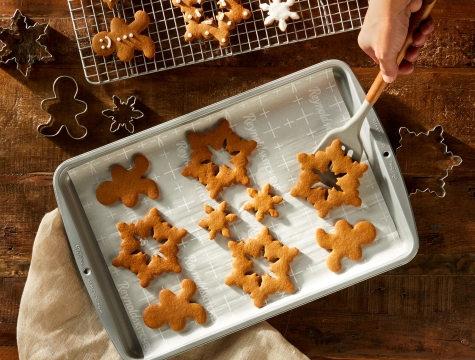 Lining a baking sheet when making cookies
Using parchment paper for baking cookies will enable them to bake more evenly, and the non-stick quality will also help prevent them from cracking or breaking when lifting them off the sheet.
Cleaning up easily after cookie decorating
Before frosting and decorating cookies, lay a sheet of parchment paper on your counter. When finished, you can easily scoop up all the sprinkles and mess and toss them in the garbage.
Rolling out dough
From pie crusts to sugar cookies, roll your dough between two lightly floured parchment paper sheets. Use the same sheets to roll the dough evenly for your entire recipe. Then gather up and toss the mess when done!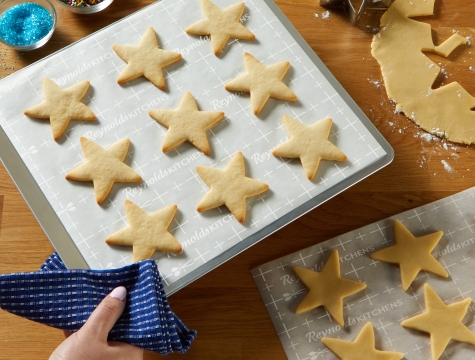 Transferring cookies to and from a baking sheet
If you line your baking sheet with parchment, you can easily slide the entire parchment sheet of cookies directly onto your cooling rack once they are out of the oven. In addition, you can scoop cookie dough onto a sheet of parchment in preparation for your next batch and slide them easily onto the tray when ready to pop into the oven.
Decorating home-baked goods
Parchment paper makes the perfect short-term storage wrapper for baked goods. Simply wrap cookies or bars up in a parchment packet and tie it with baker's twine, and gift your goods immediately.
Making a DIY parchment paper pastry bag for icing and chocolate
Decorate your cookies like a pro with a DIY pastry bag made of parchment paper. It's easy to do—take a triangle-shaped piece of parchment paper and curl it into a cone-shaped pastry bag. Scoop frosting into the center so you can decorate each cookie with precision. Take a look at these step-by-step instructions on how to make a parchment pastry bag.
Cooking with Parchment Paper Makes Mouthwatering Meals and Lessens the Mess
Once you start making dinners with parchment paper, you'll never want to go back. From infusing flavor and moisture in your meals to helping avoid stuck-on foods, parchment paper will help rescue you from dull dinners and tedious cleanups.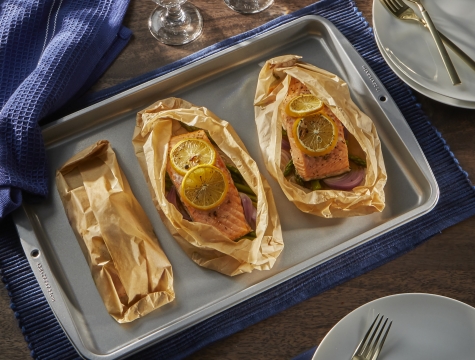 Making a parchment packet (papillote) for cooking fish
Transform an average piece of fish and vegetables into a succulent and flavorful meal with this simple method: lay your ingredients and seasonings out on a sheet of parchment, gather the sides of the parchment and begin to fold down the paper from the top of the parchment until you reach about an inch from the ingredients. Tightly fold in the sides of the packet, crimp the edges tightly to ensure the packet closes fully, and let it do its magic in the oven. Your taste buds will thank you!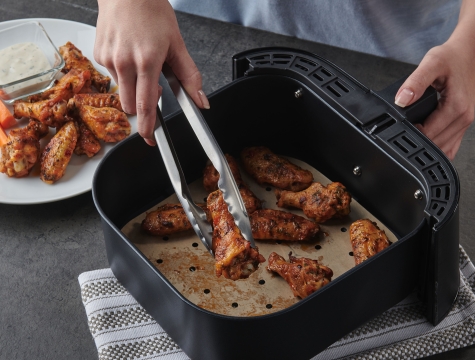 Lining air fryers
Ready to kick messy air fryer pans and baskets to the curb? Reynolds Kitchens® Parchment Air Fryer Liners are a quick and easy cleanup remedy. Each perforated sheet allows air to flow so your foods cook and crisp evenly. Always place food on liner before using.. Toss the air fryer liner in the trash when you're done. No more soaking and scrubbing greasy messes from your air fryer pans and baskets.
Covering or lining foods in the microwave
If microwave splatters have you scrubbing like a contortionist to clean every corner, add parchment paper into your routine. When reheating food in the microwave, simply place a sheet of Reynolds Kitchens® Parchment Paper over your microwave-safe dishes or plates. For added protection, add a sheet of parchment paper underneath foods to eliminate splatters and avoid messy cleanup.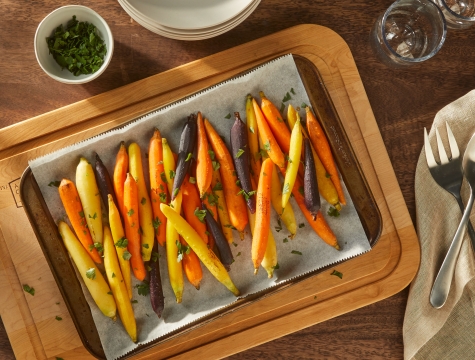 Roasting vegetables in the oven
Have you ever experienced roasted veggies sticking to your baking sheet? Then you've got to try roasting them on a baking sheet lined with parchment paper. When you're ready to stir and toss the veggies for even roasting, they won't adhere to baking sheet. And, parchment paper makes easy cleanup—no more scraping veggies off the pan!
Creating no-stick smash burgers
There's nothing like a smash burger to satisfy your comfort food cravings. This loosely packed ball of ground beef is smashed almost flat with a spatula or a food press to make a tasty, beefy burger with a thin, caramelized crust. But how do you keep your meat from sticking to your spatula or press when prepping your burgers before cooking? It's simple—lay a parchment paper sheet between your smashing tool and the burger.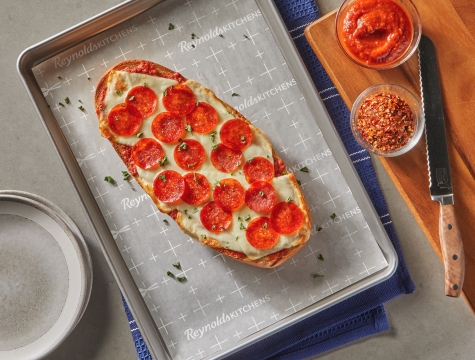 Kneading or rolling dough for pizza and bread
When it comes to making dough for breads or pizza crust, using parchment paper can truly make a world of difference. To make kneading and cleaning up easier, simply sprinkle some flour over the parchment paper and use it to line your work surface. In addition, parchment paper makes rolling out your pizza and cookie dough a breeze. Place two identically sized sheets of parchment paper, one on the bottom and one on top of your dough and roll away! Say goodbye to dough sticking to your rolling pin and hello to evenly rolled dough every time.
Steaming corn on the cob in the microwave
Did you know that you can make juicy, sweet, and delicious corn on the cob in the microwave? It's incredibly simple and you'll be amazed why you haven't been doing this all along. Start by shucking your fresh corn, then wrap each ear tightly in parchment paper and put in the microwave – 2 minutes per ear. When finished, simply unwrap and butter and season to taste.
Parchment Paper Tips for Food Prep, Storage, and Cleanup
Parchment paper is not just a must-have for cooking and baking—it can make your overall kitchen experience better! Here are some tips for using parchment paper in food prep, storage, and keeping a tidy workspace:
Separating foods and baked goods
Using cut-to-size parchment paper sheets makes separating baked goods and sticky foods a breeze. When storing cookies, brownies, cheesecake, or leftover pizza slices, layer with parchment paper to keep them from sticking together. If you're prepping or freezing meals in advance, try placing parchment paper between burger patties, pork chops, chicken, or steaks to make it easy to pull them apart when you're ready to cook.
Making sushi rolls
Don't have a bamboo mat for sushi rolls? Not to worry! Just grab some parchment paper instead. Begin with a nori sheet placed shiny side down on the parchment paper, then add your rice and other fillings. Roll it up tightly using the parchment to compress the ingredients into a compact log shape. Seal the nori sheet edge with water and slice your roll into 1-inch pieces. It's that easy!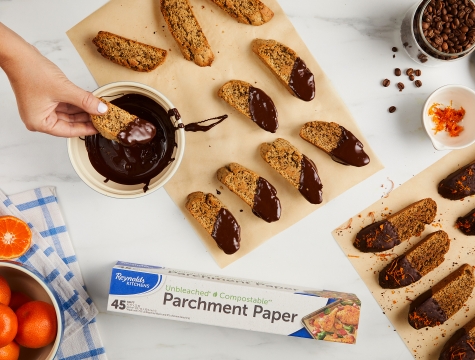 Cooling melted chocolate, garnishes, and fudge
From Chocolate Peanut Butter Balls to Peanut Butter Stuffed Strawberries, parchment paper makes chocolate-coated creations easy to remove with its non-stick surface. Want to impress your guests with fancy decorations? Just draw your design on parchment paper, drizzle the melted chocolate on top, and allow it to cool completely. Your design will be easy to peel off and perfect for decorating your desserts. And let's not forget about this easy hack for making homemade fudge—line your pan with parchment paper, let the fudge cool, and use the edges of the paper as handles to lift it out of the pan with ease.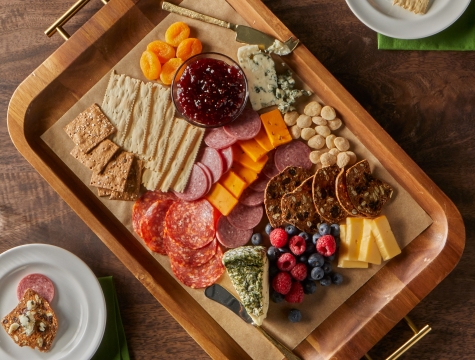 Protecting surfaces for easy cleanup
Simplify life's messes using parchment paper. Use it to protect your countertops from sticky shredded cheese, catch sprinkles and icing from cookies, or make disposable place mats for young kids. Keep your kitchen shelves and drawers clean and protected from spills with parchment paper lining, easily securing it in place with masking tape. Instead of scrubbing your refrigerator, cut parchment paper sheets to fit your shelving and drawers for easy cleanup. When soiled, toss and replace.
Clever Parchment Paper Craft Uses
Sewing and quilting
For sewing enthusiasts and quilters, parchment paper is an essential tool. Known for its strength, flexibility, and tear resistance, it's perfect for creating durable patterns that can be used repeatedly. No more flimsy tissue-paper patterns that fall apart after one use! To make a pattern with parchment paper, cover the entire pattern (tape together multiple sheets with masking tape for larger pieces), trace over it with a permanent marker or pencil, trim the edges, and voila! You have a reusable sewing pattern that will last for ages. Quilters use the same tracing technique to create fabric patterns from hand-drawn objects like hearts, leaves, and flowers.
Protecting your iron
When fusing interfacing or placing an iron-on patch on fabric, protect your iron's soleplate from sticky adhesives that may ooze out by using parchment paper. Place a layer of parchment paper between the iron and the fabric to prevent any residue transfer.
Wrapping gifts
Elevate the presentation of your gifts with a chic minimalist style by opting for parchment paper wrapping tied with ribbon, jute, or string. Add a personal touch by designing patterns onto the paper using permanent markers to take it a step further.
Crafting mat for your tabletop
Parchment paper is useful for more than just cooking and baking. It's also ideal for crafting! Lay out your parchment paper and let your creativity flow without worrying about glue, glitter, paint, or other craft supplies sticking to or damaging your tabletop.
Creating a funnel for glitter and paint
Don't let excess glitter or paint go to waste—create a parchment paper funnel and pour it back into the original containers. Like making a pastry or piping bag, you can fashion a parchment paper funnel to add to your crafter's tool kit.
As you can see, parchment paper is the ultimate kitchen and home helper you can't do without. It's one of those fundamental kitchen items that you can always rely on to make your life so much easier. It is incredibly versatile, and using parchment paper can save you time, money, and effort. With this handy little kitchen accessory by your side, you'll be able to whip up all sorts of delicious treats and masterpieces in no time at all and make tidying up a cinch.